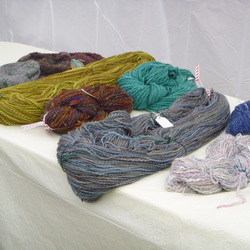 Shupp's Grove Sheep and Wool Festival
A Fiber Treasure Trove in the Grove
Welcome To the 3rd Annual Shupp's Grove Sheep and Wool Festival!
Shupp's Grove
607 Willow St, Reinholds, PA 17569
Phone:(717) 484-4115
---
Located in Lancaster County PA.

Free Parking, Free admission. Hours are Saturday and Sunday 8 AM - 3 PM.

Food Court, Bathrooms and Showers

Celebrating Anything Fiber related, and It is located on "the Antique strip of The USA!"

Fleece, roving, yarn, clothing fiber, crafts, spinning, knitting, crochet, felting and weaving supplies, and so much more! There will also be Antique deals to be found, too!

Many shopping opportunities, close by!

Well behaved dogs are welcome to attend, provided they are leashed and under control at all times. And please be respectful of our show animals, and have the courtesy to our vendors and visitors to clean up after them .

There will be a space designated for a spin-in for a spin, in a nice shady spot for whoever is interested in participating, so bring your wheel and join us!

If you have any Ideas for our show, please feel free to contact us! We are a work in progress and any suggestions for works shops, or are interested in teaching one, etc are welcome!